The categories of people receiving the COVID-19 vaccine will expand this week to include emergency medical technicians, federally qualified health center workers, funeral home workers, congregate workers and residents, Gov. Andrew Cuomo on Monday said.
Nursing home residents starting today were administered their first doses of the vaccine. So far, 38,000 have received their first COVID-19 shot since it became available this month. Frontline health care workers were the first to be given the vaccine.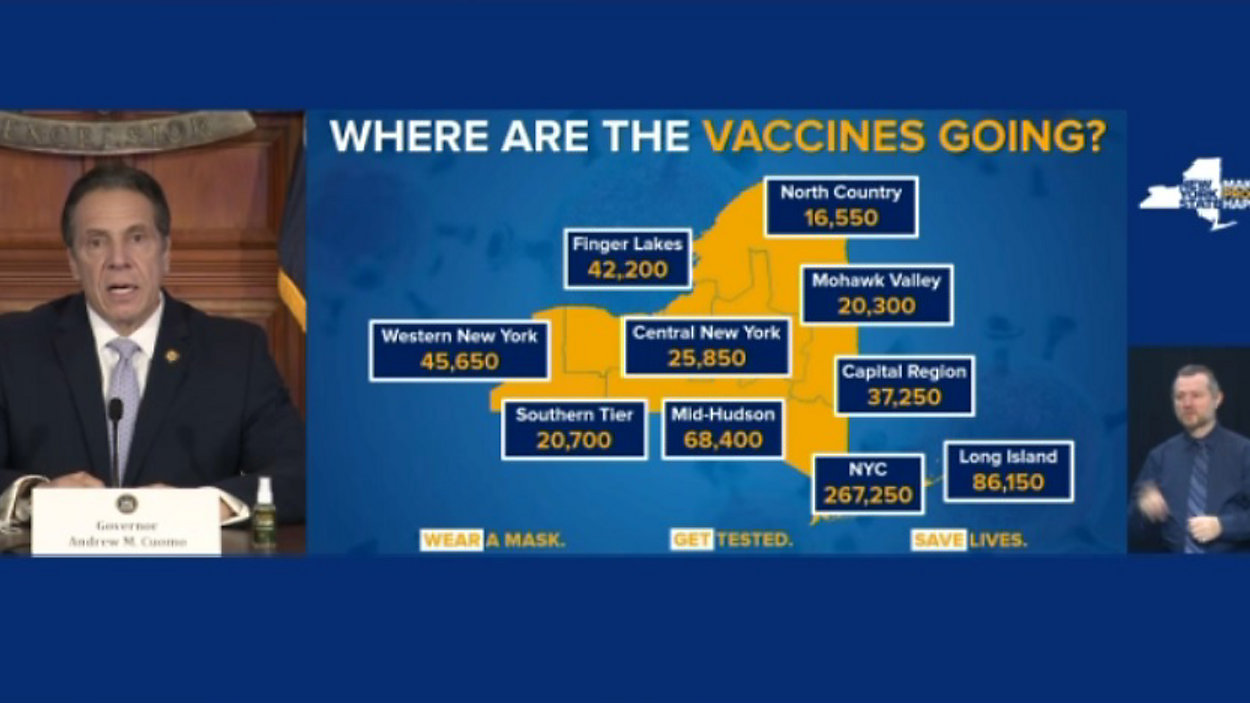 The state this week is due to receive an additional 120,000 doses manufactured by Pfizer and 346,200 made by Moderna.
Cuomo at a news conference on Monday stressed the vaccines are being allocated on a per population basis – hence New York City so far receiving the bulk of the vaccines.
"New York City hospitals get more," Cuomo said. "Yes, because New York City is a larger percentage of the population."
The availability of the vaccine this month provides for a proverbial light at the end of the tunnel for the pandemic as positive cases of COVID-19 mount in a year-end upswing.
"There is no politics in the vaccination process," Cuomo said. "There is no politician in the state of New York who is control of the vaccination process."
The extent of New York's involvement in distribution of the vaccine is to define the categories of people who are eligible for it and distribute it to regional hospital groups.
"We define the categories of people who eligible," Cuomo said. "We tell the hospital this is the eligible category, you administer the vaccine. Our only job is to distribute the vaccine to the regional hub and to make sure they are following the guidelines."
It's not yet clear when Cuomo himself will be given the vaccine.
"I had said I would take it as soon as the panel authorized it, and I'm willing to take it," Cuomo said. "The flip side is, I don't want anyone saying, well, you took the vaccine and it should have got to an essential worker."