One of the major changes when it came to redrawing the state's congressional lines, is the new 24th district. This new creation is close to 250 miles from one end to the other and close to 700 square miles in all. The two candidates hoping to represent the 24th, understand the challenges of a new region and the need to bring people together.
"I was in Niagara County last night. I'm here today. I'm going to be in Wayne County. I'm going to be in just about every county this week. Within a week, I try to hit 12 counties," U.S. Rep. Claudia Tenney said.
"Our biggest expense is gas and coffee," Democratic challenger Steve Holden said with a laugh. "It's how we make sure to get from end to end. But the great thing is, we get to meet a whole lot of great people here out on the trail, diverse folks, different viewpoints."
That is one of the things that Holden, a retired lieutenant colonel in the United States Army and current 22nd District Rep. Claudia Tenney enjoy about the long days and long nights.
This district, NY-24, and its size, its differences, a person representing this sprawling area, must want to work hard and truly believe in what they are doing.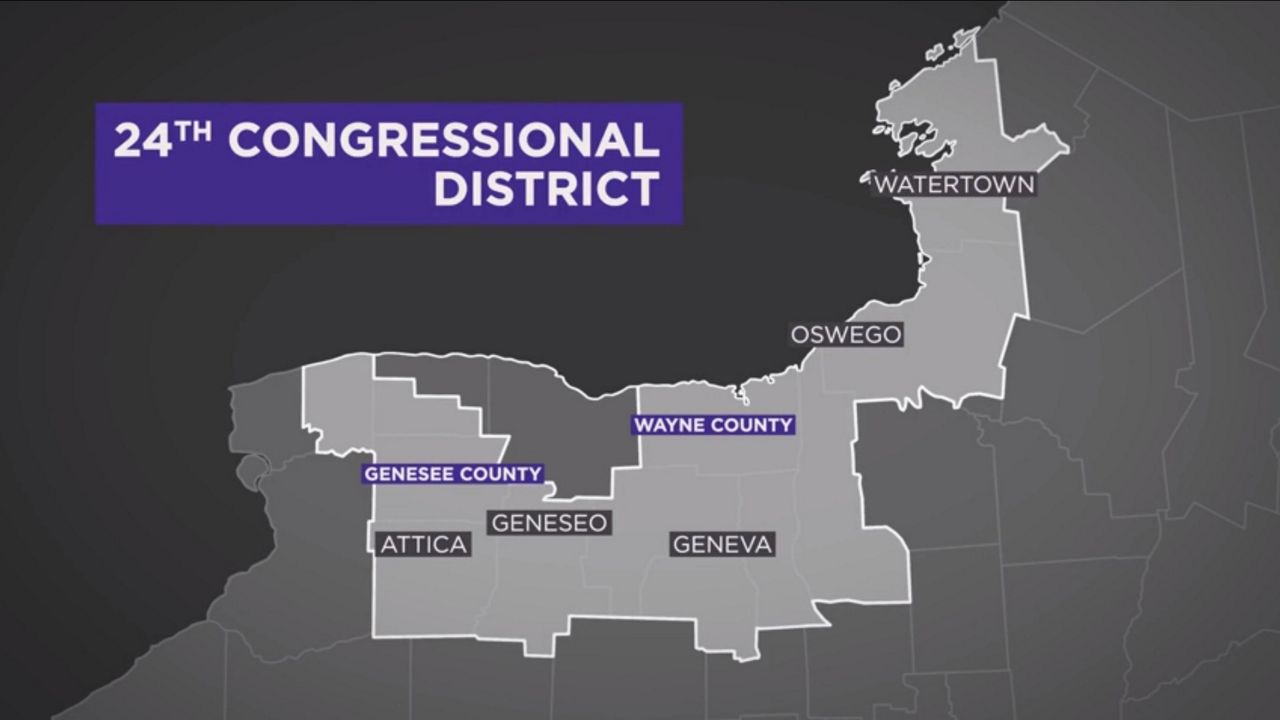 "When I was in the Army, after my name I didn't have a D or an R, I had U and S after it. Right now, I believe Democracy is in peril. I took an oath to defend the Constitution of the United States and that didn't end when I retired," Holden said.
Holden says he is uncertain of just how far some on the far-right are willing to go to undermine the will of the people. Instead, he believes Congress should be focused on the need of the people.
"I believe it is incumbent on people like me to stand up for our nation right now at a time of critical need," he added.
As for Tenney, that's exactly what she says she's been doing since the day she first took office in the state Assembly, and now for two congressional terms.
"I'm a grassroots person. I like to meet people and find out how I can serve them best and advocate for them, find out what the issues are," she said.
Tenney says that means helping small businesses compete, lowering taxes for everyone and finding ways to enhance our local agriculture.
"If we lose our agricultural productivity and our ability to produce food and feed not only our region and our state, but the world, you're going to see a real problem," Tenney added.
As for Holden, who supports legal gun ownership, well, he also supports the issue Claudia Tenney was just railing against, mandatory overtime pay for farm workers. Holden says it needs to come in a way that allows all upstate family farms to remain in business.
"I've watched family farms get destroyed for generations now. We need to kind of shift back to supporting them instead of giving money to big AG," he said.
Which brings us back to this district, its sheer size, and its numerous differences on various issues, including Lake Ontario water level management. Each candidate now has less than 10 days to show how they're the one that can bring people together, and unite.
One issue these two have been somewhat in a public disagreement about is fracking.
Tenney has introduced a bill that would incentivize New York state to overturn its ban on the practice, while Holden stands firm against what he says are environmental concerns.